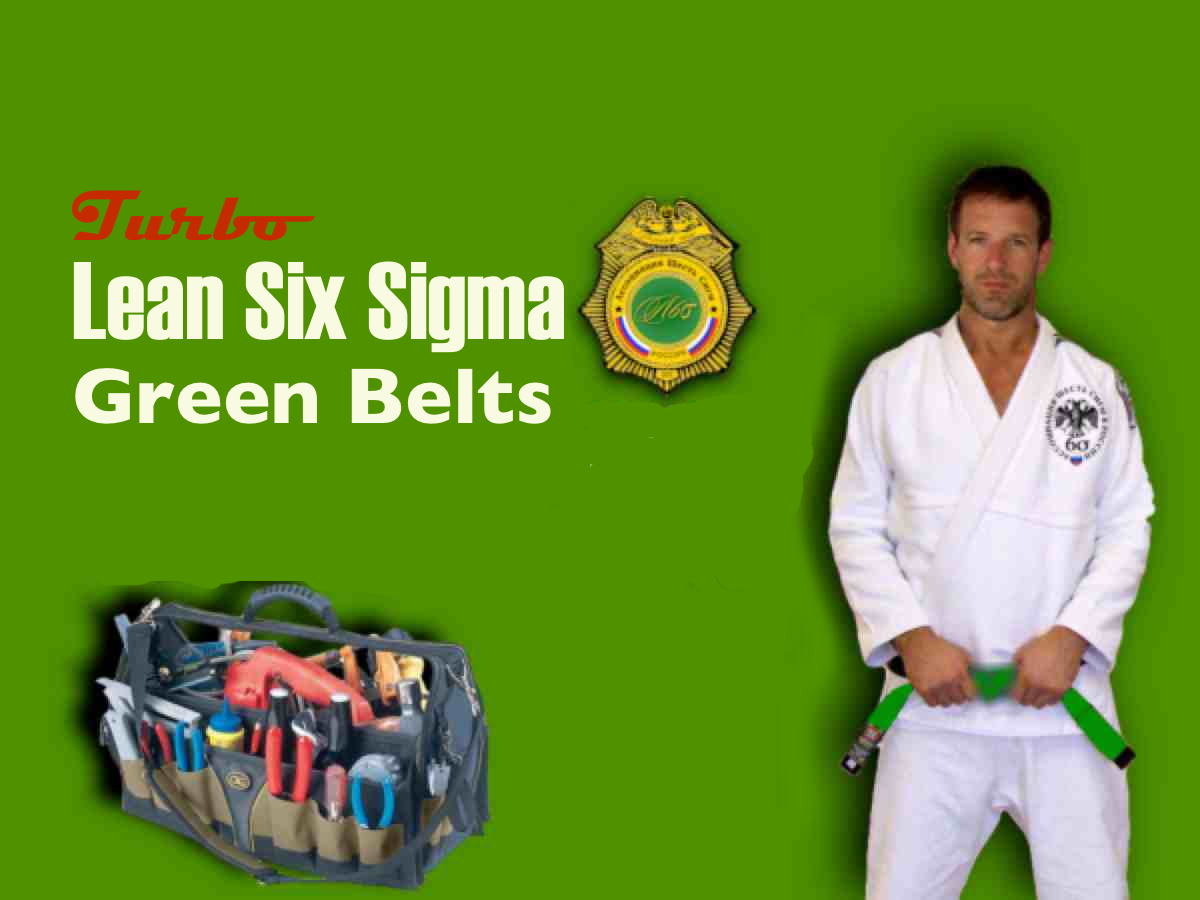 Role and responsibilities of Green Belt in Lean Six Sigma continuous process improvement technology is somewhat similar to those of 1st or 2nd rank engineers – such specialists have general understanding of technology and logic behind it, has knowledge and practical experience of applying available tools to every stage of the DMAIC process of project implementation. Such specialist can't be responsible for a full-scale organization-wide deployment of Lean Six Sigma, but he or she is ready to execute projects and gain economic benefits (subject to the support from the top management).
For Russian companies that are only making their first steps towards continouos process improvement, discovering for themselves its ideas and technologies, Green Belt is a minimal reasonable level of training, as he or she is capable to execute projects and gain economic benefits for the company immediately after completion of the course, thus increasing his competency overtime, simultaneously with the general development of Lean Six Sigma culture in the company.
Taking into the consideration the specifics of doing business in Russia, peculiarities of national business education system and the latest trends in Lean Six Sigma methodology development, professionals of Russian Association Six Sigma developed an accelerated Lean Six Sigma Turbo Green Belt Course, which provides for accelerated (3+1 days) completion of the course material, execution and presentation of the project. Upon its completion, candidate receives a Lean Six Sigma Green Belt certificate by Russian Association Six Sigma.

What do you gain?
In-depth understanding of Lean Six Sigma technology for continuous business process improvement;
Ability to execute Lean Six Sigma improvement projects – on your own or as part of the project team;
Understanding and basic skills of practical use of Lean and Six Sigma tools;
Applied knowledge on how to select projects, seek for solutions and implement them, present project results;
Basic understanding of the large-scale organization-wide Lean Six Sigma deployment process;
First step towards becoming Lean Six Sigma Black Belt.

Target Audience
First-line and mid-level managers, professional staff of manufacturing, economic planning, financial, logistics, sales, marketing, and other services;
Individuals – graduates of economic, engineering, medical and other professions, willing to develop a new skill, highly demanded on the market, and to learn how to better understand the nature of processes and problems in their organizations;
Professional team from one company – either from one department or cross-functional (the most efficient approach as a first step towards full-scale deployment of Lean Six Sigma in a company).

Course Curriculum
Introduction. Introduction to quality management; History of development of continuous process improvement technologies; Origins of Lean and Six Sigma; Problem solving using Six Sigma; International and Russian practice of using Lean Six Sigma. Nature and core principles of Six Sigma; DMAIC project cycle.
Pre-project phase. Definition of business processes; Assessment of economic benefits from the potential projects; Prioritization and expert assessment tools; Project selection.
Define stage: Tools and methods of business process mapping, search for "pressure points"; Voice of Customer; Creating Project Charter; Basics of teamwork dynamics.
Measure stage: Cause and effect relationships; Types of data; Data collection and data sampling; Measurement system analysis; Introduction to business statistics; Evaluation of capability and productivity (CP, CPk).
Analyze stage: Graphic means for visualization; Hypothesis testing; Correlation and regression; Statistical analysis tools; Tools for creative analysis.
Improve stage: Generation and search for solutions; Failure mode and effects analysis (FMEA); Lean systems and tools; Introduction to design of experiment (DoE); Pilot deployment.
Control stage: Planning tools; project management and control at the deployment stage; Statistical process controls; Replicating successful solution throughout the company.
Basics of Lean Six Sigma deployment on the organizational level: Software for Lean Six Sigma; Roles and responsibilities of Lean Six Sigma participants in the company; Deployment procedure on the company level; Case studies of successful projects and deployments.
Duration
3+1 days.
3 days (21 hours) – training in a form of seminar;
1 day – presentation of projects and award of certificates .
Course Peculiarities
Training and certification of Green Belts includes execution of study projects upon completion of the seminar. Projects shall be completed within 2 to 4 months, and we provide mentorship support and off-site consulting to our students during this term. Upon project presentation, students receive Lean Six Sigma Green Belt certificates from Association Six Sigma.

Additional Materials
Lean Six Sigma Green Belt textbook;
Handouts on step-by-step application of the main Lean Six Sigma tools;
Demo versions of software products.
Certification
Lean Six Sigma Green Belt certificate (Subject to the project completion)
Or
Certificate that student attended Lean Six Sigma Green Belt course.


Price
$3'000 per person, VAT not included

(discounts available for group orders)
Related Courses
Traditional Lean Six Sigma Green Belt Course
[gravityform id="10″ title="false" description="false" ajax="false"]